ATTENTION IF YOU ARE READING THIS ARTICLE FROM A SMARTPHONE TURN IT OVER TO VIEW IT BETTER.
---
In order to carry out a successful replacement, it is essential to find the correct spare parts that are compatible with your operator version..
The compatibility of each part is indicated on the product page, in the "Description" section..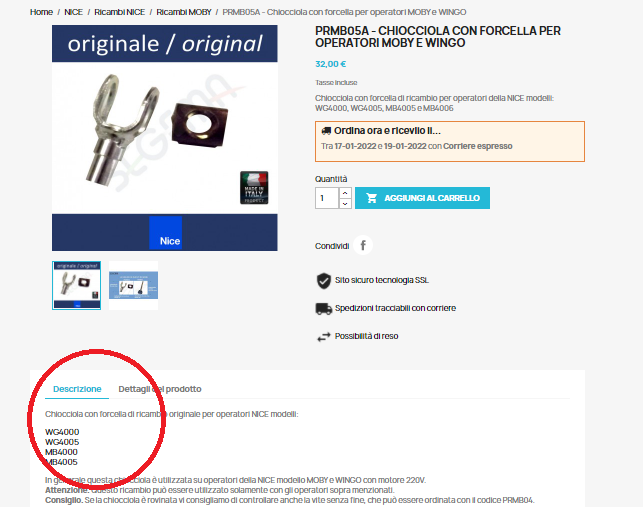 ALWAYS CHECK ITS COMPATIBILITY WITH YOUR VERSION, DON'T RATIO ON THE PHOTO ONLY!
In fact, many parts are visually very similar, but vary in details that do not make them compatible with your version.
The operator model is indicated on the nameplate of the gearmotor; this shows the type, version, serial number, make and date of manufacture of the device. Le tipologie di dati possono cambiare a seconda della marca; in generale, sono indicati con la dicitura TYPE, TIPO o MODELLO, in maiuscolo.
The plate is not always in the same place, but varies by make and model.
SWING OPERATOR
Depending on the design of the operator to automate a swing gate, the plate can be located differently.
In these operators, the plate is located on the cylinder, at the rear (between the wall and the gate)..
The name plate is located at the bottom, on the side closest to the gate hinges..
The name plate is located at the bottom, on the side closest to the gate hinges.
SLIDING OPERATOR
The nameplate is usually placed under the lid, on the operator's surface.
BASEMENT OPERATOR
You can usually find the nameplate by lifting the cover on the top of the engine..
ARTICULATED ARM OPERATOR
In these models you have to lift the cover and look for the nameplate located inside on the engine surface.
SECTIONAL OPERATOR
The label is generally located under the cover, on the surface of the motor..
OVERHEAD DOOR OPERATOR
The label can be placed either under the lid or on the side.
BARRIER OPERATOR
The identification plate is generally found when opening the box, on the side of the control unit.